Packing Services San Diego
Vector Movers and Packers San Diego has Three different packing services:
Furniture Only, Furniture+ Kitchen, and Full Packing Services
FURNITURE ONLY
This is the most common type of the packing services provided. Over 60% customers choose this option when using our packers and movers San Diego.
During this pacing services all small items need to be packed by a customer prior crew arrival. Our
San Diego Movers
will wrap and protect all large pieces with moving blankets, plastic supplies and other protective materials. This moving service also includes free wardrobe boxes. Our movers and packers San Diego would also protect your residence by applying door cover, doorway protection and floor runners for all main walkways, which majority of moving companies in San Diego would not do.
FURNITURE + KITCHEN
In addition to "Furniture Only" option we would also pack your kitchen items into boxes.
Our mover and packers San Diego will carefully pack your fragile kitchen wear with packing paper and small bubble wrap. Our San Diego moving company will label each box with stickers or markers. Please keep in mind that kitchen packing takes a good amount of time specially if you have a good amount of fragile items. All our Movers San Diego are trained and know how properly pack your items. This selection includes: Boxes, Packing Paper, Bubble Wrap, Shrink Wrap, Professional Moving Blankets, Tape, and Closet Wardrobe Boxes. If your crew needs to use our company's supplies for packing, charges for boxes, packing paper and bubble wrap will be applied. Call Vector Moving and Storage your packers and movers San Diego today.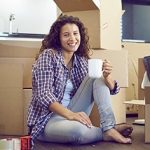 FULL PACKING
This is the option when you shouldn't move a finger, our San Diego movers will do everything for you. This is what full packing services for.
Our movers and packers San Diego will pack all small items into boxes, pack your pictures and paintings, kitchen and furniture. It is very hard to find a good San Diego moving company for full packing service, however Vector Moving and Storage is specialized in this kind of moves and has spent tremendous amount of time in training our local movers and packers for full service moves. Going with Vector Moving and Storage you should know that you are going with the best moving company in San Diego County. Your satisfaction is our success. We move and pack you with care.
If you do not have packing supplies for us to pack
we can provide all kind of packing supplies at following fees:
Custom Oversized Frame
$15 / Each
Small Mirror Pack
$6.5 / Each
Medium Mirror Pack
$6.5 / Each
Large Mirror Pack
$9 / Each
Furniture Felt Slider
$2.5 / Each
Looking for San Diego Movers? Packing Services?
Contact Vector Moving and Storage today!