Long Distance Moving San Diego
MOVING TO ANOTHER CITY OR STATE?
WE ARE HERE TO HELP YOU!
Let our movers move you safe. "Vector Moving" like nobody else knows what LONG DISTANCE MOVING is. We know how to perform the best moving and customer service during long distance moves.
With us you can always track your Long Distance Movers San Diego and call office and even your driver for any updates. Moving Long Distance with us we guarantee delivering your belongings on time. Our movers in San Diego trained and know how to wrap furniture for long distance moves, which is slightly different from regular wrapping for local moves.
There are 3 different ways to move your belongings: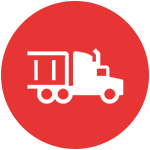 TRAILER MOVES
This option usually the cheapest and most risky. When you do long distance moving with trailer you need to know few things. Your items will be moving cross country with few other customers belongings in the same trailer. Truck will be making stops for unloads and new loads, it means your items might be moved or reloaded multiple times. It will increase possibility of damages and mixing your things with other customers, it doesn't usually happen but there is a possibility of it. How it works our San Diego movers will come and load your items either directly to a trailer if it is available right away or in one of our local trucks and then transfer it to a trailer. You will be given a time frame when your items will be delivered usually it is 1-3 weeks, driver would usually call you 2 days ahead of time to inform about delivery that you cannot miss, because deliveries with trailers are no flexible. If you miss it, truck will pass your unload and you will need to wait more, also additional chargers might be applied depends on the carrier. This option usually the most affordable however it proved to be the longest and less safe from 2 other options.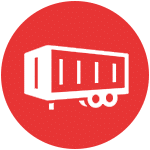 CONTAINER DELIVERY
Contained delivery is safe and sometimes more expensive then trailer delivery, but safer and faster. Our San Diego moving company movers will come and protect all your furniture and large pieces, container will be delivered to your door (if city allows) or we will load your items in one of our local trucks and after take it to container facility. What makes this option safe is that you are the only one who has the key for container and the only one who can access your items. Delivery takes anywhere from 7 to 14 days and sometimes we can store for 1 month for free. This option is very popular. Our moving company does this moves about once a week and it proved to very convenient for customers since you can choose a delivery date.
DEDICATED TRUCK DELIVERY
This is the fastest delivery you can get. Our movers will load your belongings to the truck which will have only your items in there. Once truck is loaded it would hit the road towards delivery destination. We will be driving 500-650 miles per day in order to get your belongings to drop off address as soon as possible. You will get the same crew at the loading and unloading point which makes your move smoother and easier. You can always in contact with our driver and receive the latest updates about location of your belongings. Our San Diego moving company always keep all tricks well maintained in order to avoid any problems on the road.
RATES
To know the price for your upcoming long distance move please contact us. Our specialists will be able to provide you with a price and other details. You can also email us your: pick up address, drop off address and list of the items moving and receive a price for your move within 24 hours.
Long Distanse Moving San Diego For You!
To know the price for your upcoming long distance move please contact us. Our specialists will be able to provide you with a price and other details.