San Jose Movers You Can Rely On
A Top Rated San Jose Moving Company
At Vector Moving and Storage, we're proud to be named one of the top rated moving companies in San Jose and all of California. We strive to provide the best service and are committed to ensuring all of our customers are satisfied.
Vector Moving and Storage has a 5-star rating on Yelp and maintains an A+ rating with the Better Business Bureau.
Whether you're moving locally in San Jose or across the country, call us directly. Our aim is to make your move as smooth and stress-free as possible.
See Why We're the Best
We are fully licensed and insured
Our trucks are fully equipped and always clean
We show up on time
Our drivers and movers are highly experienced
Your satisfaction is our #1 priority
Whether you need a mover to load and unload your belongings, or you want a full-service move complete with packing, call Vector Moving and Storage.
Why Choose Us?
Not all movers are created equal. We aim to provide the best service and ensure customer satisfaction. Discover why so many customers in San Jose choose Vector Moving and Storage.
Long Distance Moving San Jose
Long-distance moves can be stressful and challenging to plan. Whether you're moving across the state or across the country, Vector Moving and Storage will help you move safely. We have the experience and know-how to make your long distance relocation as easy as possible.
Local Moving San Jose
Need local moving services in San Jose? We know the city inside and out. Whether you're moving out an apartment, condo or a house, our movers are here to help. We will move your belongings safely, quickly and efficiently to ensure your move is as painless as possible.
Packing Services San Jose
We offer a complete range of packing solutions, whether you need a helping hand or someone to take care of everything for you. We offer three levels of packing services:
Furniture Only
Furniture and Kitchen
Complete Packing
Our team arrives fully prepared to expertly pack your items safely. Fragile items will be carefully packed with bubble wrap and other protective materials. We also provide moving blankets, tape, shrink wrap and wardrobe boxes.
We know that life can get busy. Packing is the last thing you want to do when you have a family to take care of. Let us do all of the hard work for you with our professional packing services.
Professional San Jose Movers – Commercial or Residential
Vector Moving and Storage has a team of professional, experienced movers ready to help you with your San Jose move. We offer both commercial and residential moving services to meet your needs.
Our team will protect your furniture with furniture pads and shrink-wrap before loading them onto the truck. We also take extra measures to protect your items when moving them out of your home, such as laying down floor runners, door protection and doorway protection.
Our level of care and commitment to service is unmatched. We are also happy to provide a detailed inventory or your move upon request.
Our trucks are equipped to haul your items safely and efficiently, whether you're moving across the street or past state lines.
We Specialize in Long Distance Moves
When you're moving long distance, so many things can go wrong. That's why we provide our movers with specialized training to make each long distance move as stress-free as possible. All of our movers are experienced, so you can rest assured that you're in good hands.
The same crew members will load and unload your items.
For all of our long distance moves, we offer flat rate pricing with no hidden fees.
Complete Storage Services
Why choose public storage services when we can handle everything – from start to finish – for you? There's no need to go searching for a storage service or figure out what size unit you need. Our storage facilities are climate-controlled, so your items are protected.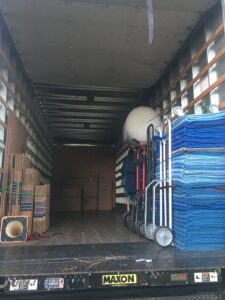 Our San Jose movers will carefully inventory and tag all of your items at your request.
Our storage solution offers you a convenient way to store your belongings. Unlike our competitors, we charge per unit – not per vault.
Choose the Best for Your San Jose Move
At Vector Moving and Storage, we take our job very seriously. We know that moving can be stressful. We're here to make it as smooth and painless as possible. Our movers are true professionals. We show up on time, and we treat your items like they were our own.
Call or contact us today to get a quote on your San Jose move.
Looking for San Jose Movers?
Contact Vector Moving and Storage today!