Moving from San Diego to Miami?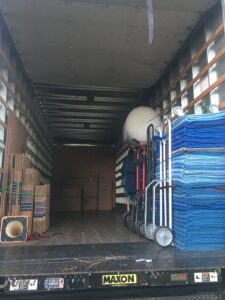 Think of moving from San Diego to Miami? Vector Moving and Storage moving company is always here for you!
We will promptly transport all your belongings from San Diego to any other city in the USA, and for convenience, we offer a wide range of basic and additional services, we carry out targeted delivery, packaging, and cargo insurance. Are you ready for moving from San Diego to Miami.
However, planning is extremely important before moving. You need to calculate everything — from daily spendings to pastimes. To help you determine the right solution, we have researched the city and collected all the pros, cons, as well as aspects of life in Miami.
Let us say right away that Miami is definitely not a city for the poor. Relatively inexpensive real estate compare to some other American megacities is offset by the difficulty of finding a job and lower salaries. Unskilled and low-skilled jobs are much harder to find here than in New York and Los Angeles. In addition, many vacancies in the field of the hotel business, catering, and delivery require additional knowledge of the Spanish language.
About Miami.
There is a stereotype that Miami is the perfect place if you want to enjoy the summer heat at any time of the year. Indeed: low mortgage interest rates and moderate real estate prices make it possible to become the owner of an apartment with an ocean view (worth from $500 thousand and above). However, if you like the tropical climate and the hot sun, then it will be much more profitable to buy an apartment or a house not in the Miami – Fort Lauderdale – West Palm Beach agglomeration. But in quieter places in Florida — such as Tampa Bay Area or Orlando. Perceiving Miami only as a vacation destination, you should also take into account that by the standards of this state. The cost of real estate here is much higher than in several other resort cities. Let's see what you need consider when moving from San Diego to Miami.
So, first, let us figure out why you should definitely move to Miami.
Advantages of living in Miami:
Warm winter. The average temperature in January is 68 °F.

Relatively inexpensive real estate.

Warm ocean and the best beach in the USA – South Beach.

Good transport links, including the absence of traffic jams typical for many other major megacities and the presence of one of the largest airports in the country.

Vibrant nightlife. A large number of nightclubs, restaurants, and concerts of pop music stars.

Developed infrastructure for owners of boats and yachts in the form of dozens of different yacht clubs and berths. If you like boat fishing or boat trips — Miami and Fort Lauderdale are the best cities for this. Now you know advantages for moving from San Diego to Miami.
And now let us move on to the cons.
Disadvantages of Miami:
High crime rate (83.9 on a 100-point scale — violent crimes, which is twice the average level in the United States — 41.4). Miami is also in the lead in property crimes — 61.6 on a 100-point scale (the average level in the USA is 43.5).

Very hot summers with high humidity and, accordingly, high electricity bills consumed by air conditioning.

The cost of living is 18.7% higher than in the US as a whole.

The high cost of home insurance compared to other states (due to the risk of tropical hurricanes).

There are too many people from Latin America (with not the highest level of education among many of them).

Higher unemployment rate than the national average.

Poor quality of school education compared to some other states. There are few good schools, but many bad ones.
The city has gained popularity thanks to its beaches with clean sand and a gorgeous wave. It is the waves that attract both tourists and locals who love to ride on boards. The disadvantages of Miami include the presence of sharks in the coastal zone, not too high, but wide enough waves. Going into the water, the sandy bottom begins to disappear directly from under your feet. Even to the minuses, you can add the fact that there are practically no attractions here. During the day in Miami, life still somehow boils, but with the arrival of dusk, only representatives of disadvantages social groups can be found on the street. Please take in consideration this information when moving from San Diego to Miami. Please consider this when moving from San Diego to Miami.
Respectable neighborhoods of Miami. Where to move?
Miami Beach and South Beach are considered the most popular living areas, so it is here that the most expensive houses, hotels, and cottages are located. The owners of real estate in these territories are celebrities such as Julio Iglesias, Jennifer Lopez, Anna Kournikova, Shakira, and others. On the territory of the city, Hollywood stars often shoot clips, TV series, or movies. And this is not surprising, because the Miami Beach area is distinguished by its beautiful white sands, a strip of which is about 25 miles along the Atlantic Ocean coast. In addition, the crystal-clear waters offer unique conditions for diving and diving. The center of the district is Ocean Drive, which is divided into parts. In the eastern part, there are beaches, and in the western, more remote, there are all sorts of restaurants, cafes, and shops.
Located between the area of tropical swamps and the Atlantic Ocean coast, the city offers excellent resort conditions. The Miami metropolitan area has about five million inhabitants, which is considered the seventh-largest in the United States. If you compare Miami with such American cities as New York or Chicago, then the city is not inferior to them in beauty and quantity of entertainment. Miami occupies only third place in the number of multi-story buildings, which is quite impressive because there are more than a hundred buildings on its territory, the height of which is more than 90 meters. The tallest of them is the Four Seasons Hotel and Tower, 240 meters high.
Despite the small selection, there is definitely something to see in the city
As for historical and cultural attractions, there are, of course, not as many of them as in New York, but it definitely will not be boring. After all, there are also wonderful places here that will be interesting. For example, the Coral Castle is still shrouded in mystery, because no one knows exactly how one person was able to build it. Or Bakehouse Art Complex, impressive for its number of works and their originality.
Villa Vizcaya is very popular among tourists and residents, as well as the garden and waterfalls of its surroundings. No less enthusiastic are numerous zoos, such as Everglades Safari Park, which is home to alligators and crocodiles of various species; Monkey Jungle — monkey paradise, where almost all existing species of monkeys live; as well as The Miami Metro Zoo, which is one of the ten largest zoos in the USA.
You will see a stunning memorial to the victims of the Holocaust, as well as an amazing Venetian swimming pool, which is rightfully considered the most beautiful in the whole world. Maximo Park is known for its cute groups of old men from Cuba who constantly play chess there. And in general, the city has acquired its uniqueness due to the diversity of ethnic cultures and groups on its territory. Hopefully this information will help while moving from San Diego to Miami.
The Gateway to Latin America
Many people call Miami the Gateway to Latin America, and it is not surprising. Because in the city more than 68% of the population are Latinos, only 12% are white Americans, and the rest are African Americans. A fairly large percentage of the population is from Cuba. In addition, Miami is a real Mecca for pensioners, because after retirement many people move here for permanent residence. That is why a very large number of elderly people can always be found in parks and the surrounding area. Representatives of the younger generation are often just visiting tourists or just vacationers from neighboring cities. Please consider this when moving from San Diego to Miami.
Weather
As for the climatic conditions, this is a real tropical city in which the summer is quite humid and hot. From May to October, heavy precipitation falls throughout the territory. So these months are considering not the best for recreation. In addition, Miami, along with such American cities as New Orleans and New York, is most prone to hurricanes. Therefore, the period from the beginning of June to November is considering the most dangerous month. Winter in Miami is warm and dry, snow never falls here. Therefore, winter is the most wonderful time not only for life but also for recreation. Please consider weather when moving from San Diego to Miami.
Ecology
According to an article in Forbes magazine, the city is recognized as the cleanest in the United States of America, because it is a very clean and green city, with a high-quality water composition and large fines for disturbing order and polluting the surrounding area.
How much does it cost to live in Miami?
Everyone associates Miami with a chic and expensive life, but this is not so. Of course, as everywhere else, there are expensive hotels and restaurants, but there is also a place for families with average earnings here. To save more money, you should not visit restaurants, but try to cook your food by buying products from local supermarkets.
Beaches and ocean
The beaches of Miami are great for divers of various levels of training. Artificial coral reefs, as well as various wrecks of sunken ships and their fragments, are considering a highlight in the local territories.
It is especially cool to dive in the area of the wrecks. Where the wrecks of about thirty sunken ships, about 2-3 oil platforms, as well as several tanks are underwater. One can only imagine how extreme and mysterious such dives will become in these territories. Even if you just dive with a mask and snorkel on one of the beaches, you can get a lot of positive emotions.
Made up your mind? If not, then you need to choose professionals with extensive experience in the field of transportation, as well as favorable conditions. Our company Vector Moving and Storage perfectly fits all these parameters.
We will transport all your belongings, make loading and unloading, and even carry out installation promptly. Also, you can leave your things in storage in our warehouse — just as long as you wish.
Thousands of customers trusted us with their moving from San Diego to Miami. Why don't you do the same?