Welcome to our San Jose long distance moving company.
Looking for San Jose Long Distance Movers?
Vector Moving & Storage is a San Jose long distance movers that can help you to move anywhere in USA.
Long distance moving is difficult, stressful and exciting. Our San Jose long distance moving company defines long distance as 100 air miles or more away from San Jose. We drive 500+ miles a day to ensure that your belongings arrive at your new destination as swiftly and safely as possible.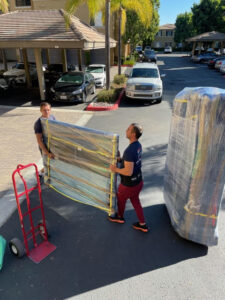 When you rely on our San Jose long distance movers, you're choosing a company that allows you to:
Call the office for updates on your belongings
Call the driver for an update
Our San Jose Long Distance moving service guarantees delivery on time(as long there is no technical or weather issues. Long distance moves require extra attention to detail to reduce the risk of items breaking or damaging.
3 San Jose Long Distance Moving Services to Meet Your Needs
Container Delivery
Our San Jose long distance moving company provides you with multiple forms of shipping. Container delivery is a step up from a trailer move and is safer and faster. Our movers will use blankets and protective moving supplies around your furniture, as a result we can avoid damages.
Once loaded, the container is brought back to our facility.
Our San Jose long distance movers provide you with a key to your container so that you're the only person that can access your items. You can choose to load the unit yourself (we'll drop it off), or we can load it for you.
Delivery estimates are 7 to 14 days, and we may even be able to store your container for free for a month. A lot of our clients choose to store their containers for a month or more while trying to figure out their living arrangements.
You can choose the delivery date, and we do container drop-offs or loading once per week.
Dedicated Truck Delivery
Need your items delivered fast? A dedicated truck delivery is the fastest and easiest solution available. Our movers will come to your home, load all of your items into the truck and start driving to your new location. We'll drive 500 – 650 miles per day to deliver your belongings to you.
Vector Moving & Storage will ensure that the same workers that loaded your truck are unloading your truck.
We also provide you with contact information for your driver so that you always have updates along the way. With top-of-the-line maintenance, you can be sure that our trucks have air suspension systems that eliminate breakage risks and that breakdowns are a rarity.
Our San Jose long distance movers also bring moving blankets, appliance covers and other packing supplies for your most precious items.
Trailer Moves
Vector Moving and Storage San Jose long distance moving company can also haul a moving trailer to your new destination. Trailer moves are often the most affordable, but they're also the highest risk option when moving. When you opt for a trailer move, you're choosing to:
Keep your belongings in a trailer with the belongings of a few other customers
A truck that makes multiple stops to load and unload
Have your items potentially moved and reloaded multiple times before reaching your new home or office
The loading and reloading process, plus the additional time on the road, can increase the risk of damage and items being lost in transit. While our long distance moving  San Jose service take every measure possible to ensure this is a rare occurrence, it can and does happen.
If the risks above are acceptable for you, we can come and load your items directly into one of our trailers or local trucks. Delivery time is typically one to three weeks, but one of our drivers will call two days in advance to alert you of your delivery.
While this is the most affordable moving option, it's also the riskiest. If you miss our delivery, additional wait time and charges may apply.
Rates
You're on a budget, and our San Jose long distance moving service is on standby to help you fit your move into your budget. When you call us ,we'll provide you with a price for you move and all of the fine details so that you're in complete control of your moving situation.
We request just a few items to get started with your price: pick up and drop off addresses, list of items you'll be moving and contact information. Our team will provide you with a price within 24 hours.
Vector Moving & Storage has been able to cut relocation expenses for some of our clients by as much as 70%.
If you're planning a big relocation and don't want to stay up late at night worrying about your move, give our San Jose long distance moving company a call. We're here to make your move as stress-free as possible.
Looking for San Jose Movers?
Contact Vector Moving and Storage today!