San Jose Packing Services
Vector Moving & Storage Moving Services
Moving is difficult, but packing is what most people dread the most. You'll need to have a collection of boxes, packing supplies, bubble wrap, tape and additional items. If you want a move that doesn't require you to do all of the packings, Vector Moving & Storage offers the packing services you need at a price you can afford.
We know that a one-size-fits-all approach to packing isn't the best option for everyone.
3 Packing Options in San Jose
Furniture
Furniture is difficult to pack. You don't have boxes for your furniture, and trying to find one to fit won't work in most cases. The best option is to use protective materials, packing supplies and furniture blankets.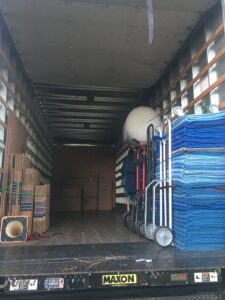 Over 60% of our customers choose our furniture packing services to keep their largest and most expensive items safe. We ask that you pack the small items in your home before we arrive if you plan on having us load your truck.
We'll bring everything necessary to pack your furniture properly, including plastic supplies, protective materials and moving blankets. If we're moving your items out of the house, we'll use floor runners and doorway protection, too.
Furniture + Kitchen
Furniture is one of the most common belongings that people want to protect adequately. If you need your kitchen packed, too, we can help. Your kitchen's items are fragile, small and tedious to pack. We'll come with all of the boxes, shrink wrap, small bubble wrap and packing paper to ensure glass and other delicate items don't bang together and break.
Kitchen packing is a time-consuming process, so we do ask that you allow us enough time to pack these delicate items properly.
We train all of our packing specialists on how to pack kitchens properly. We can pack everything from fine china to dinnerware and glassware, too.
Full Packing Services
Our all-star service allows for hands-free packing and is also our most expensive option. When you choose our packing services in San Jose, you're choosing true professionals that will help with furniture, kitchen, and all of your additional items.
We specialize in a full packing service that allows us to pack and inventory all of your items.
If you opt to use one of our full-service moves, we can pack and load the truck. We'll also drive and unload the truck if you wish. We do offer labor only option that eliminates the need for you to pack your own truck.
We treat all of your items like our own and will work to protect them from scratches, damage and loss during your move.
Packing Supplies for Your Move
Whether you're in the middle of a local or long distance move, we can provide packing supplies for a fee. If you have all of the supplies necessary already, you can skip this section. Our team can bring as many boxes and supplies as necessary, including:
5 cu. ft. Small box
0 cu. ft. Medium box
5 cu. ft. Large box
Custom oversized frame
Dishpack
Small mirror pack
Medium mirror pack
Large mirror pack
Furniture felt slider
We're Trained Professionals
Your belongings are important to you. When you trust someone else to do all of the packings for you, your most precious items need to be given the utmost attention and care. Our team of professionals are highly trained to reduce the risk of your items being:
Our packing services allow you to rely on true professionals to help with your San Jose move. Once all of your items are packed, you can choose to load them in your truck and move, or you can have us take care of the heavy lifting.
Along with offering the best packing service in San Jose, we also offer:
Local and long-distance moves
Truck loading and unloading
Full-service move
You can hire us just for the labor (loading and unloading), or you can hire us for your entire move. We also offer state-of-the-art storage facilities that are climate controlled and allow you to keep your boxes, appliances and furniture in a secure location.
We can have the items loaded and delivered when you're ready, or you can come pick up your belongings at a time that works best for you.
If you need help with packing in San Jose or want to inquire about completely hands-free service, contact us today to speak to one of our specialists. We'll be more than happy to provide you with a custom quote.
Looking for San Jose Movers?
Contact Vector Moving and Storage today!